PARK FOREST
L5
Fell March 26, 2003
Park Forest, Illinois


On March 26, 2003 a massive bolide illuminated the Midwest skies just before midnight. Soon after, sonic booms were heard and meteorites descended across four cities in Illinois . The small town of Park Forest was ground zero and several houses, cars and buildings were hit. To further pinpoint ground zero, Winslow Street seemed to be the epicenter. We all know of the structures that were hit: The Barnes, Garza, Jones, and Navarro homes, the fire station and the house only known as "The Winslow House". Anyone who made it to the Park Forest made these rounds, to see first hand the destruction.
The Winslow House impactor first hit the street, smashing into hundreds of pieces that sprayed the house making several dents in the home and car. Most of the pieces of the stone were confiscated by the local police citing that the street is public land and that is technically where the meteorite landed. In the end most, not all, of the material was returned to the homeowners.
After the dust settled, residents Dale and Diana Kasco set out to repair the damage with a deal in place to sell the artifacts from the largest dent. In the course of making the repairs they hid the following note:
Park Forest Meteorite Impact Site
If you find this funny little patched up hole. This note is to help you know what you've found. A meteorite hit Park Forest on March 27, 2003. This was an impact site of a meteorite that hit the street and shattered and sprayed the front of the house with pieces. This was the largest hole and it was sold in July of 2004 for $1200 to Mark Bostick a meteorite dealer in Kansas . There are other notes from different construction projects we have done. We hope you enjoy living in this home. We did for may years.
Dale and Diana Kasco
Park Forest, Il 60466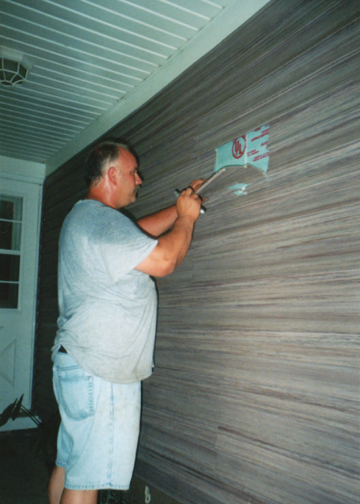 I recently became the custodian for the home artifacts and did some trimming to properly mount them. As a result I have a limited supply of artifacts to pass on for others to enjoy.
Each Kit includes
$75.00